Speech
XOtaki College
Citation speech notes, 4 May 2018
Written and presented by XŌtaki Trustee, Fraser Carson

As we experience more of life, it becomes ever more interesting to figure out how do people turn out the way they do?
Why do some people refuse to become victims and never seem to choose defeat?
And here's a thought about that.
As a little kid growing up in Ōtaki, David Pritchard and Chris Parkin were the big kids – in the case of Chris, figuratively speaking.
But us little kids looked up to them.
Otaki, to a kid in the 1960s, was a few square miles of paradise. Sunny Ōtaki. Rivers to the north and south, ocean to the west and hills to the east. Ōtaki College at the epicentre.
Great soil and a perfect climate makes Otaki a marketing gardening town with a strong Maori culture at its heart. There were Indians, Chinese, Italians, Irish, you name it.
A great place to grow tomatoes, and my father grew tomatoes.
His accountants were Knox & Parkin and his tomato plants came from Dave Pritchard Senior. My Dad was mates with George Parkin and Dave Pritchard.
Everyone knew each other and looked out for each other, and we kids grew up in paradise with parents and a school that gave us some pretty good life values.
So as we celebrate the achievements of these two people, I think it's good to reflect on these fertile origins. We might conclude that these two men decided to write their life story at a very early age.
The Citation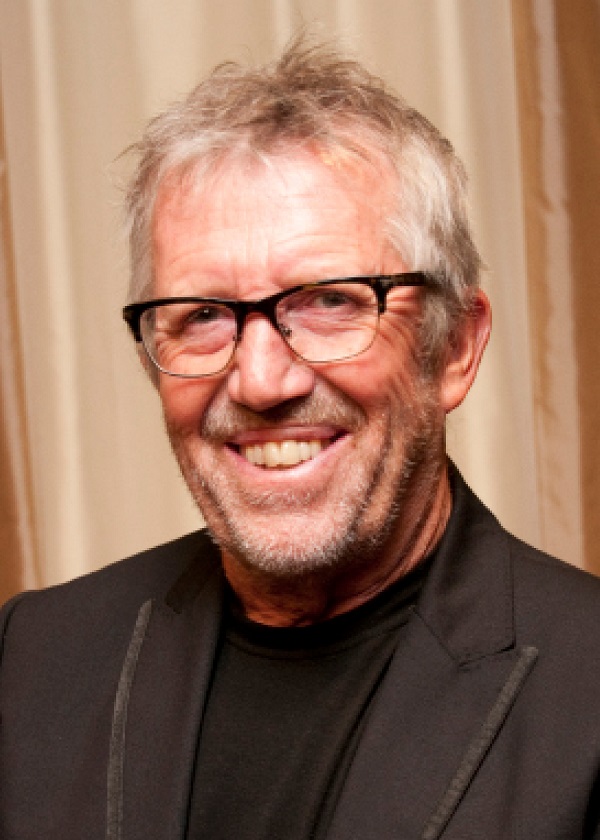 Chris Parkin: of humble beginnings growing up in Waerenga Road Otaki and graduating from Otaki College in 1966.
Chris Parkin: passionate Wellingtonian, generous philanthroper, entrepreneur, businessman, arts collector and arts patron, former Museum Hotel owner, former Wellington City Councillor, consummate host, caring father of Nik and Meredith, and husband to Kathy, and a thoroughly decent human being.
Chris Parkin's generosity-of-spirit has few boundaries and, as a result, he does nothing by half. Whether it's founding the Parkin Drawing Prize. Whether it's venturing into railway locomotion to relocate a 3000 tonne hotel on Wellington's waterfront, or whether it's riding a motorbike with his good mates around remote parts of India, Kashmir, Pakistan, China, Tibet, Nepal, Turkey, Central and South America, Chris takes life by the handlebars and gives the throttle a healthy twist.
His friends – and some who aren't his friends - will attest to his intelligence, hardwired to an instinct for smart off-the-wall ideas. Chris doesn't just talk about ideas; he has a habit of making them a reality.
It would have been unthinkable for most people in the early 1990s, to save the vacated Michael Fowler Hotel from demolition because it occupied part of the site of the future Te Papa. Chris Parkin did not own the building, he initially had no idea about how to move it, where to move it or how he might pay for it. But he used his intelligence, charm and persuasive leadership skills to toss the hulking hotel onto railway bogies and some relocated South Island railway track, then to be hydraulically rammed a hundred metres or so down Cable Street to its current location. The improbability of this story is now legendary in Wellington and I thank Tony Seager for providing the background story. SEE TONY'S FULL STORY HERE.
So having thrilled little children and railway enthusiasts, while threatening the career futures of engineers and insurance brokers, Chris had become the proud owner and hotelier of the famed Museum Hotel de Wheels (later the Museum Hotel), where he set about acquiring a formidable art collection that, as he describes it, most other people seem to like as well.
Chris Parkin was born in Doncaster, Yorkshire. His mother Olive and father George, a World War 2 Prisoner Of War veteran, moved the family from England to New Zealand before Chris had started school, first to Waikanae and then Otaki. Here he lost his Yorkshire accent and showed a natural academic prowess at Otaki Primary School and then Otaki College.
It was towards the end of this time that Chris displayed a fledgling appetite for fun and entrepreneurship by entering into a joint venture with school-mates Denis Manz and Peter Castelli to purchase Mr Jimmy Sievers old hearse. The funeral mobile was on sale for 7 pounds 10 but Chris beat it down to 5 quid. Queenie Rikihana had been offered in on the deal but had no interest in cars, or funerals. This venture might have led Chris into a career in undertaking – or perhaps surfboard transportation - but instead he rather more seriously departed for Wellington in 1967 to be a student at Victoria University. There he studied geochemistry (which led to a Masters degree with Honours) and acquired an interest in business, which must have been behind his also attaining a Bachelor Of Commerce.
Since university days - aside from a bit of gambling with Tim Coney in foreign exchange - Chris has become a central figure in the development of Wellington as the cultural capital of New Zealand – a confident and thriving tech, arts and entertainment amphitheatre.
He was a Wellington City Councillor from 1995 to 2004 where he played an invaluable role, along with his good friends Kerry Prendergast and Rex Nicholls, in developing the modern city we know and love today. I acknowledge other Wellington champions here to honour Chris including Academy Award winner Jamie Selkirk and renowned property developer Ian Cassels.
On council Chris developed a popular reputation as a very intelligent lateral thinker with firm ideas, frequently succeeding in making his point and convincing others to vote with him through his strength of personality and good humour.
14 years later and Chris is still approached by citizens who assume he's a councillor.
Chris has been and continues to be involved in Wellington's arts, business and cultural scene. Since selling the Museum Hotel in 2015, Chris and Kathy – when one talks about Chris, we are also talking about Kathy – have continued their business successes and own several commercial building in Wellington's CBD.
He is consistently serving the community through sponsorships in the visual arts, film, theatre, music and dance, as well as several charities including the Life Flight Trust, IHC, Ronald MacDonald House and Child Cancer. In 2017 Chris made a generous donation to assist in the completion of Otaki College's SS Otaki Centennial Monument.
Chris is the founder of the Parkin Drawing Prize, a prestigious national drawing competition, now into its sixth year. Entries come from some of New Zealand's very best emerging artists and the winner of the Parkin Drawing Prize receives $20,000.
Chris has held many influential positions over the years including Trustee of the Affordable Arts Trust, Chairman of Wellington Venues Limited, Te Whaia Services and is a Trustee of the Hannah Playhouse. In addition he has generously given his time and resources to numerous causes and projects, such as the New Zealand International Festival, Bats Theatre productions and so on.
In the 2011 Queens Birthday honours list he was awarded a Companion of the New Zealand Order of Merit for services to the arts and business.
So to conclude with a quote from Chris's good friend Rex Nicholls: "Chris is an extremely good choice as a distinguished member of Otaki College's Hall of Fame. He sets a great example for future Otaki students and graduates and would be a valuable person for Otaki to use as one of its examples of what can be achieved by a student from a small provincial college."
Chris Parkin, along with his wife and great soul mate Kathy, is an exceptional New Zealander, a true Wellington patriot and someone Otaki and this college should be very proud of.
Ladies and Gentlemen, I give you Chris Parkin.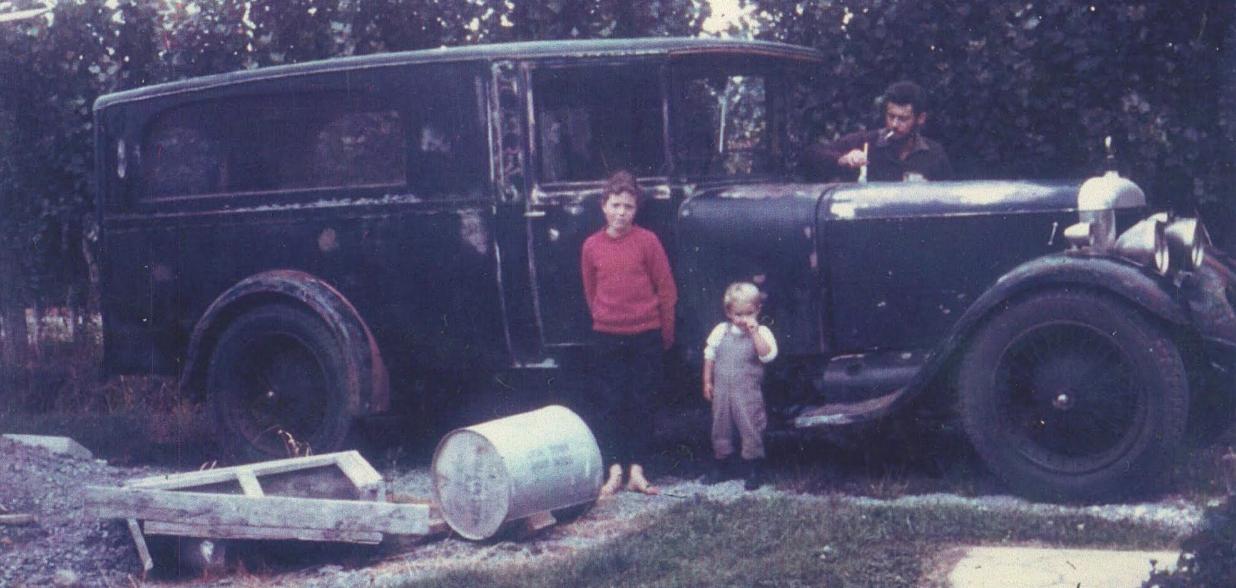 Jimmy Sievers' hearse was used in the Otaki Historical Journal 2014; photo courtesy of Max Lutz. It shows sisters Pauline (by the door) and Wendy Mudge, with their uncle, Don Hague, working on the car, which he bought from brothers Dennis and David Manz, and Chris Parkin. It was driven to Whakatane where it was sold to an airline pilot. The photo was taken on the Mudge property in Te Manuao Rd, about the mid-60s.