Jackie Sutton - XŌtaki College Alumni Trust Hall of Fame co-winner 2021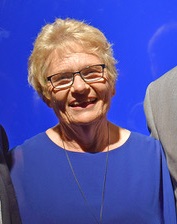 Jackie Sutton has followed her passion and enjoyed immensely serving her multi-cultural community and the health sector.
She was born Jackie Peter in Levin but has spent most of her life in Ōtaki. She After Ōtaki College she trained as a nurse at Wellington Hospital, saying she loved nursing "from the very first day".
In 1967 Jackie was awarded the Florence Nightingale award for graduating top of her nurse training intake. She then worked for a year at Wellington Hospital, along with fellow Ōtaki nurse Borgia Hakaraia.
Jackie took a year off to do an OE trip, working in London and travelling. On her return to Ōtaki she worked at Ōtaki Medical Centre, which was then on the corner of Aotaki and Rangatira streets.
She married Ralph in 1969 and they later had a farm in Te Horo, then in the 1990s to Ōtaki. They had three children, Debs, Rachel and Barrie.
Working for 49 years at Ōtaki Medical Centre, Jackie has helped care for generations of local families. She became respected for her compassion, dedication and deep understanding of local people's needs no matter who they are – helping others over and above their medical care.
Jackie loved district nursing, which she did for 22 years doing alternate weekends and relieving alongside her practice nurse work. During this time she did specialist training with Mary Potter Hospice for palliative care. She provided palliative care as a volunteer at nights and during weekends.
In 2002, Jackie was awarded the Queen's Service Medal (QSM) for public services.
At the end of February 2018, Jackie "retired" from working, but continued her community activities with organisations such Cobwebs, Friends of the Ōtaki River, Friends of the Rotunda and the Ōtaki Women's Network.
Jackie is known giving much to others not only as a highly competent and compassionate medical professional, but also as a hard-working and trusted community member.
See the citations for co-winner Peter Housiaux