Article
XOtaki College
John Stewart Heatherwick 1947 - 2014
ARTICLE: 20 June - Contributed by lifelong friend Ron Gibbard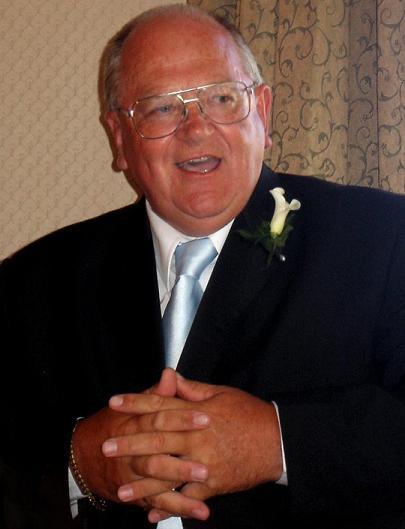 John Heatherwick died peacefully, in his sleep at home in Palmerston North on the 11th April, 2014.
John was a very open and trusting individual. He related easily to a great variety of people and made friends across a wide spectrum of our society. He loved contacting people. John was unusual in that he was a 67 year old male Facebook fan. If things happened to old friends, that news usually came via John. Also, he was a great visitor, if he visited your town, he would call in. He attended all the reunions held by Otaki College, Otaki Cricket Club and the Rahui Sports Club.
On the afternoon before he died, John had attended a meeting at Otaki College. It was to approve the documentation for the setting up of the XOtaki College Foundation Trust, a way for ex-pupils to support the present students at our old College. John was very enthusiastic about what could be achieved through the Trust, and was to sign the document the following week as a trustee.
John had firm opinions on most things in life, and like many other men, was sure other people needed to hear them! John was busy getting ready to pass his invaluable advice to NZ cricket coach Mike Hesson about the makeup of the Black Caps team for the 2014 West Indies tour.
And although he had retired from the Food Industry fifteen years ago, John was still a consultant for them – self appointed of course. Actually he gave his advice freely and rather loudly, even without being asked for it. Many of us have been in a supermarket with John to suddenly find him telling the Display Managers – or anyone within earshot, how to reorganise their products on the shelves.
John was born in Otaki in 1947 as the first child of Marion Nairn and Harold,or 'Buck' Heatherwick. Their home was in Iti Street. With his father Buck as leader, John also spent many years in the Scouts movement. John inherited from his father Buck a love for cricket. He impressed the rest of us by always coming to play with Dad's bat – too heavy for us to use, and he was the only boy who had his own cricket pads. Over the next 25 years John was an enthusiastic member of the Otaki College and Otaki Cricket Teams and later was a B Grade rep player and selector for Horowhenua. As a teenager, the only thing that ever upset John in cricket was to be beaten by any team from Levin. As a bowler he was known for his excellent line just outside off stump, and his offswingers and cutters. He was also a reliable batsman and had a booming off drive. He was a passionate supporters of the Black caps team, If you wanted to find John at an international cricket game he was always sitting with his friends Bill Lane and the NZ Flag Man, Sonny Shaw.
He was also a keen front row rugby player for Otaki College and Rahui and was a Third grade and Under 20 Horowhenua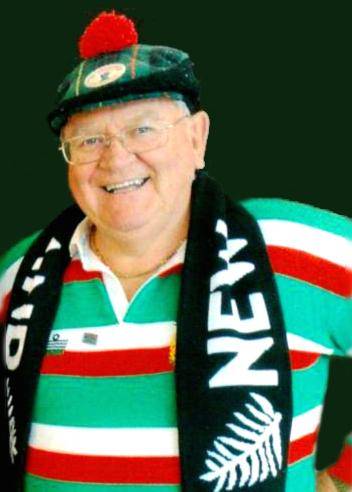 representative. John was also a very accurate goalkicker. He also served on the Horowhenua Rugby Junior Advisory Board. In the accompanying photo you can see John with his All Black supporter's gear and his Scottish cap, reflecting his Heatherwick clan membership.
While at Otaki College John got a holiday job working at Self Help in Otaki. The following year, after completing the Fifth Form, he began fulltime work there as a grocer with Bing Crosby.
In 1967 John's father Buck died suddenly, when John was 20, and he became the man of the house.
In 1970 John met his future wife Robyn Lambie at the Otaki Telegraph Hotel – Otaki was such a happening place - and on the 11th June 1971 they announced their engagement. Sadly, later that very day his mother Marion Heatherwick died. There followed a succession of smaller Self Help shops that John managed – Taihape, Hunterville, Wanganui and Hawera. In 1971 John became Assistant Manager at Economy Land Self Help on Broadway Palmerston North, which later became known as Melody's New World. From this point on work became hectic for John, and his wife Robyn!
As New World supermarkets became available for private purchase, John's position at Melody's was in jeopardy. So together, in 1985, Robyn and John took the huge step of purchasing the New World store on Pioneer Highway. When weekend trading was liberalised in 1990 they were locked into to a 7 day operation and any sense of 'free time' was lost. They continued this enterprise together for 14 years until the business was sold in 1999.
At all times, integrity was a key feature of John's business dealings, and he related superbly with his staff and customers. He was a 'people' person with a great sense of humour. His determination to succeed, his work ethic and his uncanny ability to approach anyone and strike up a conversation laid the foundation of a successful life with Robyn in the grocery business.
John also had a close relationship with his sister Mary, and the two of them travelled away together on many holidays. He was proud to be 'father of the bride' in giving Mary away at her marriage to Ian Wallace in 1979. That strong bond continued, with John travelling to Matangi near Cambridge each year in February to oversee the picking of their nashi crop. Even if a cricket test was on in Wellington, he would be at Matangi!
John's untimely death was a shock to us all, but it provides a positive opportunity to remind ourselves of the very good friends we each have, and why they are our friends.
For some the reason is the fun and smiles they bring into our lives
For others it is their unexpected support at difficult times
For others it is the steady direction of their will towards anothers' lasting good. And is at this point that a friendship develops further into a love for one another.
At John's passing we all mourned the loss of a friend. And for many at his funeral we celebrated the memory and life of a loved friend.
We'll let John have the last say though:
I think that as the Cricket Captain John would want us, after our grieving, to move on with life. This could have been his team pep talk.
Team
"I've taught you how to bat, Now it is over to you to put runs on the scoreboard.
If the umpire gives you out, accept it I've shown you how to bowl, so try to keep a line just outside off stump and bowl off-cutters
And by the way, I'm knackered so I'm going to go and put my feet up, pour myself a beer, wave the NZ flag and you can do the fielding for the rest of the game!"
A service to celebrate John's life was held in Palmerston North on the 17th of April 2014.
He is survived by his wife Robyn, daughters Renee and Shelley and sister Mary.