Peter Housiaux - XŌtaki College Alumni Trust Hall of Fame co-winner 2021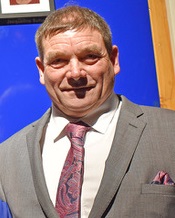 Pete, who has lived his whole life in Ōtaki, was never known as an academic at college. He began his long association with the sea after regularly skipping school to surf at the beach. He joined the Ōtaki Surf Life Saving Club aged 11 and has continued in many committee roles ever since.
He is known to many simply as "Fish", earning the moniker after opening the lid on a failed scientific experiment at college involving fermented fish.
Pete left college to work on a local farm, then took a fitter-welder apprenticeship welder at Willis Brothers.
In the early 1980s he moved to New Plymouth to work as a fitter-welder, and enrolled in the Territorial Army. About this time he met Ann-Marie, who he later married, establishing a close working and personal partnership that led to the Concrete Doctors company now employing 24 staff, and two children, Josh and Jordan.
Pete was a founding member of the Ōtaki Canoe Club in the 1980s, and as with the surf club, he is a life member, having competed and coached at regional, national and international level.
He is also a member of the Wellington/Palmerston North Marine Search and Rescue call out squad, and he has spent many years as a Land Based Search and Rescue member. He's also a qualified helicopter pilot.
Although well known in the business world, Pete is best known for the quiet contributions he and Ann-Marie have made in the community, participating in and supporting countless groups and organisations over the years.
Peter became a member of Rotary's Paul Harris Fellowship in appreciation of his community work, he was inducted into the Kāpiti-Horowhenua Business Hall of Fame in 2017 and he been twice awarded coach of the year and sportsperson of the year at the Kāpiti Sports Awards.
As son Josh said at the college awards night, Pete is a role model to those who don't believe they have the skills to achieve great things, and a great community leader who helps make Ōtaki a great place.
See the citations for co-winner Jackie Sutton